Strategic Plan Town Hall: Kelowna on May 13, 2022
RSVP now for our upcoming Strategic Plan Town Hall meeting in Kelowna on May 13, 2022, for the opportunity to ask questions and engage with our Strategic Planning committee.
KELOWNA TOWN HALL: Creating our Strategic Plan
Date: Friday, May 13, 2022
Time: 11:30 am – 1:30 pm
Location: Kelowna General Hospital Clinical Academic Campus
2268 Pandosy Street
Kelowna, BC V1Y 1T2
Room: KGH 235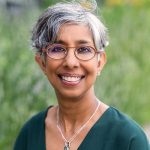 Please join me on Friday, May 13 2022, to participate in shaping the Department of Medicine's strategic direction.
As I shared in my January 9th message, I am looking forward to visiting our distributed sites and personally connecting with the incredible faculty throughout the province as we develop our strategic plan. The Faculty of Medicine has refreshed its strategic plan, and we will build on this.
I know that there are many demands on your time and that the pandemic continues to challenge us. Still, I hope that you will bring your valuable perspective to this conversation and participate in building our future. Together, we will rebuild and reimagine over the next couple of years, establishing the foundation to fully implement our shared vision in the years to come.
I look forward to meeting with you and am eager to hear your feedback, input, and ideas.
Anita Palepu, MD, MPH, FRCPC, MACP
Professor and Eric W. Hamber Chair
Head, Department of Medicine
University of British Columbia
Town Halls will take place during Strategic Plan Phase I: Situation Assessment
---
Questions about the Strategic Plan Town Halls? Contact donna.combs@ubc.ca